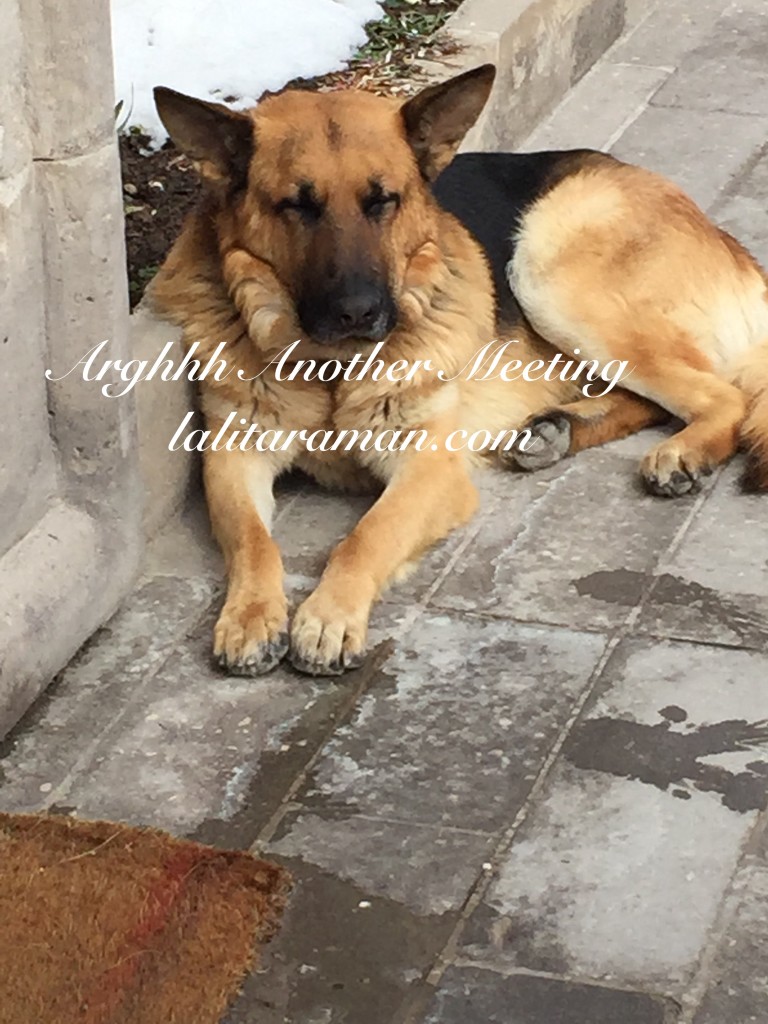 I can't believe you will be there at the meeting. This was a remark made by one of my colleagues. This meeting has an agenda and we always get something done and achieve what we set out for. I don't have any issues attending these kind of fruitful meetings was my response to him.
Couple of weeks back, I received an email asking a group of us of our availability during a particular week. I read that email and was confused. First of all there was no clear agenda or plan as to what we need each one's expertise for. What is each one's interest or what are each of us good at and how can this be used to get the best of what needs to be achieved during the end of that week for which this email was sent out. Meetings were held before this as to what we need to do and other than something needs to be done, nothing concrete materialized.
Let's schedule a meeting has become the main stay of most of the corporate world, the nonprofit world and basically part of our day-to-day life. Let's discuss on Skype, G+, conference call or face to face monthly morning meeting, weekly morning meeting or daily meeting. No matter if Ideas need to be discussed or progress needs to be checked on, let's call a meeting.
Whilst there is nothing wrong with scheduling a meeting, regularly or not, it may not be the right solution and even in instances, where, it is the best answer, the meeting needs to be structured and held in such a way, that the end goal is achieved and each participant in the meeting feels that their time was well utilized.
People in leadership positions (not necessarily all of them behave like leaders) are more often than not responsible for calling for meetings and most of the time these meetings becomes a tool in their hands to justify their presence. It is like a tick in the box with very little or no meaningful engagement from the participants.
Questions that leaders can ask themselves is
1. What is the purpose of the meeting ?
Do I really need this meeting? Is it to discuss ideas, monitor progress and is there a necessity to do that ? Am I calling for a meeting because it has been done so for the past 10 years?
Are you relying heavily on face to face meetings rather than reading and analyzing reports and data available to you ?
Do you tend to have the meetings to solicit input from others but tend to either ignore their inputs or have a tough time making decisions?
2. Do you have a clear road map to achieve the purpose?
Once you have determined that there is a concrete purpose to the meeting, set a road map as to how you will achieve it.
Are you going to be dominant and self-oriented and give little or no chance to others to contribute?
How are you going to get others to communicate and contribute?
We live in the world of communication and to keep the flow of communication going, your attitude, your mindset and what you say and how you say are all equally important.
3. What kind of a leader or person are you ?
Check your style by performing an assessment so that you are aware or increase your awareness and at the same time get others perspectives.
⇒Are you
Conservative/Technical/Innovative in terms of your approach to problems and solutions. How is this affecting your daily management of your day and the way you communicate with others.
⇒How are you in
Structuring/Delegation/Communication when it comes to your team and defining expectations.
⇒Are you a thinker or a doer and how do you balance it out in your day-to-day interactions – Strategic v/s Tactical.
⇒What is your style – relationship centered or task centered or are you balanced about the two in seeking to achieve your vision. How are you using your style to communicate with others and encourage them?
Meetings can be interesting if there is a set goal, interesting ways to get to the goal and there is clear communication flow.
 Do you want people to attend your meetings because they have to and not feel like? Do you want the participants in your meeting giving their attention to their mobile or achieving the purpose of the meeting?
When do you enjoy meetings and why? Can you bring some of that in the meetings you conduct?
Let's connect for workshops, group coaching, facilitation, one-on-one coaching.