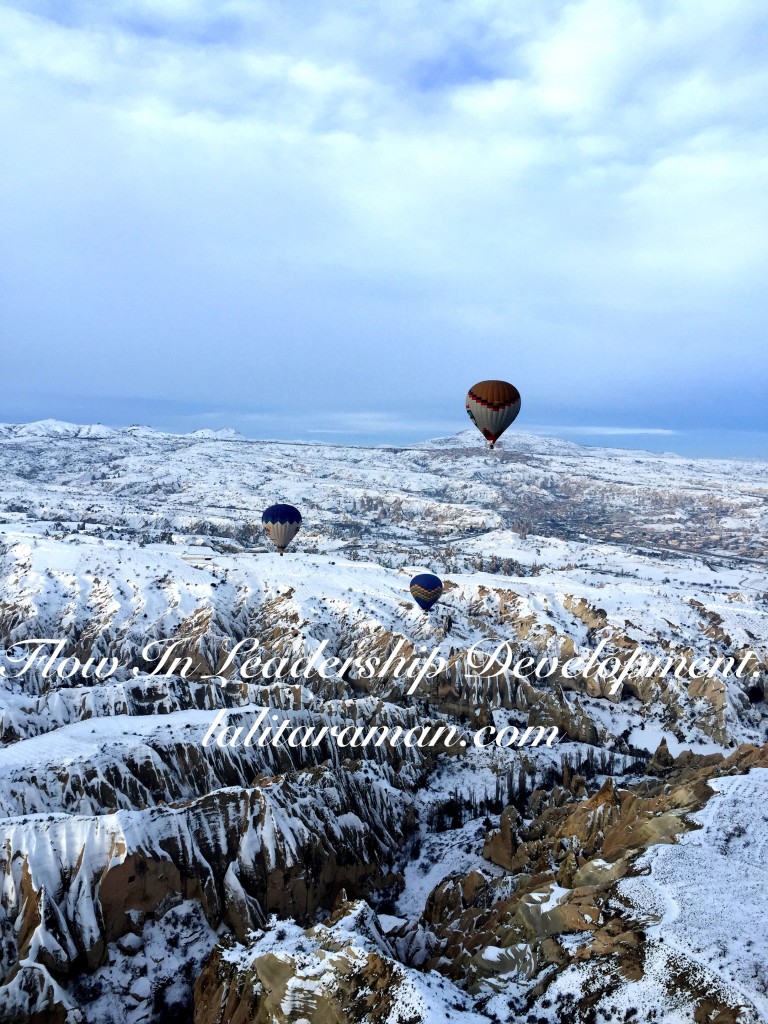 I was at yoga for a Hot Flow class the other day. Flow as the name suggests is a dynamic sequence of yoga asanas (poses) in a heated room. The instructor mentioned that he would like each of us to transition from one pose to another, effortlessly and without strain or stress. And where we felt it was challenging to breathe, he asked us to be in the moment and not get overwhelmed. He asked us to be aware of and acknowledge what we are going through, and instead of giving up, to do what each of us are capable of in that moment. The most important thing was not to let our emotion of feeling flustered or stressed take over us in who we are or seek to be in that moment. Essentially, he asked us to "level up".
When he said this, I realized that when we are in a flow, be it while writing, speaking, presenting, at a meeting, at work or at the gym, we are focused and there is synchronization of what we are doing, our state of being, our thoughts, feelings, and our breath. We are so involved in that state that we forget everything else and are present in that moment fully. The real test to mindfulness is when we are quite not in that state of flow.
In yoga, when the heat in the room and the pose gets challenging, our breath gets affected and thus the way we are and the way we do the pose in turn gets affected. If you get frustrated and irritated at this moment, you run the risk of injuring yourself.
→What is the connection between yoga in a heated room and life and leadership?←
Life throws many challenging moments in our way and in navigating through those challenges, we feel stuck. We quite often feel we are on a hamster wheel, unable to get off.
Things often go wrong, and yet life goes on. As difficult it may seem, it is up to each of us to pick the threads of learning, march forward and move on.
 And when the flow seems shaken, it is our attitude that we need to manage.
We go about our daily living largely oblivious to how we are doing things; they have become so familiar that they are transparent. A breakdown is breaking down of our transparency so that what was present and in the background becomes prominent and to the foreground of our attention.
A breakdown can be seen as an interruption to the normal and anticipated flow of life we find ourselves in. And it is an assessment by each of us that something has not happened, or is not happening, or likely to happen, the way we think it should, and that we, and possibly others, will be worse off because of this. Breakdowns can be positive or negative. A positive breakdown is when a concern has unexpectedly been taken care of. A negative breakdown is an assessment that a concern is not being taken care of.
A positive breakdown, for example, could be a promotion and moving to a different location. Whilst it does interrupt the usual set of activities, this interruption results from positive news. A negative breakdown could be something as simple as somebody not delivering on their commitment which causes a breakdown in your ability to deliver something on time.
Quite often when there is a breakdown, we make a judgement or opinion about the breakdown and an assessment about our capacity to deal with the breakdown. Emotions are an integral part of the observation of our breakdown and, as predispositions for action, influence our capacity to deal with the breakdown. Breakdown of flow thus can make us feel stressed, irritated, frustrated, angry, bored, anxious, and at times it may turn into apathy.
⇒In organizations, do leaders experience a break in the flow of things ?
⇒Do organizations experience a break in the flow of their leadership development strategy?
Many executives are thrown at the deep end of things, possibly, deep beyond their depths and they are expected to manage, lead and yet deliver spectacular results. Not every high potential is given the benefit of hiring a coach who can assist them through the transition.
In my 20 years, whilst working in the Corporate World, I have seen many executives who stretched themselves beyond their comfort zone, felt uncomfortable with the not so smooth flow and yet overcame their challenges and succeeded. Yet, I have seen others where the person was unable to navigate through the changes and challenges and achieve the result that was expected of them.
How do you as a leader manage the flow of leadership development in your organization?
 1. Be a sounding board
They create an environment where they listen, ask relevant questions, encourage, and act as a sounding board. They challenge their team yet know when to give guidance.
2. See the benefit of coaching
The "manager as a coach" is a culture that many organizations are trying to adopt. Whilst there are benefits to this, there are leaders and a cohort within the senior team who are better off getting an external coach to assist them in their leadership development path. Investing in the development path of your high potentials at the right time pays rich dividends. A leader who cares and is concerned will not be indifferent to making this investment when necessary.
3. Take calculated risks
A leader who knows their team well knows when to take risks in terms of the development strategy of their team members. They have the capability to judge the prospective ability of each of their high potentials. They know through a process of communication, clarity and observation when to challenge, when to give assistance and at the same time weigh in the costs and benefits of each of these steps within the organizational needs.
4. Deal with the challenges
They are experienced and where they don't know they consult, and seek guidance.
5. See the Big picture
Let go are too easy words but one of the most difficult to practice as a behavior.
 They learn from their mistakes, challenges and on their journey of life. They are able to predict based on their understanding of the business environment and the people who work with them. They know how to be persistent and yet when to let go.
The flow of Leadership Development is not an easy path and yet it is one where a successful leader knows when to take risks, when to ask for help and they adopt a can-do attitude in building the leaders of tomorrow and in their success.
It is human to experience a dynamic interplay between language, emotions and body when you feel disappointed, frustrated, bored, or stuck and when you feel that, ask:
→What is causing the breakdown in the flow?←
→What is boring you and why?←
→How can you spark your interest and get going with renewed energy ?←
→What are the changes you need to make to get back in the flow?←
FOR SPEAKING, ONE-ON-ONE COACHING, WORKSHOP FACILITATION, TRAINING OR GROUP COACHING, PLEASE CONNECT.