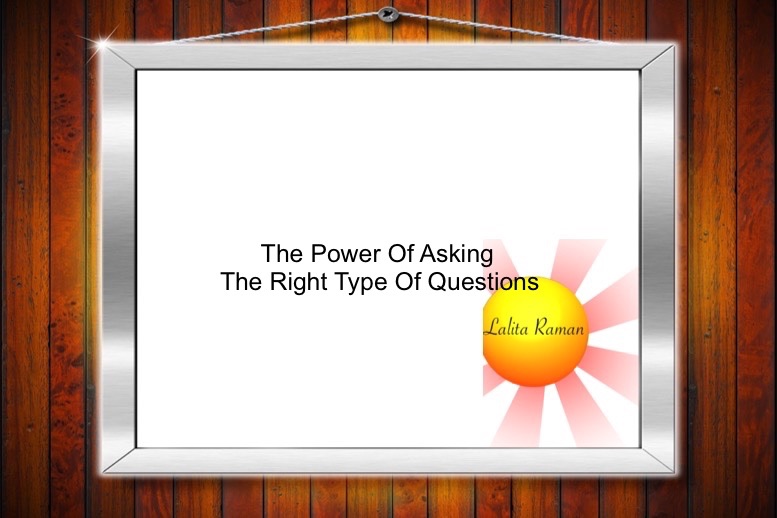 I'm often asked as to why I took to coaching and leadership training and development. My personal growth and development has come most, when I have been asked the right challenging questions by others and of myself. During the 20 years of my Corporate life, I have seen others in my team grow and develop when the right questions have been asked of them.
Questioning is undoubtedly a powerful leadership tool and one of the reasons I took to coaching. I love connecting with people, inspiring them to do their best, and helping them to grow. Coaching enables me to do that and also challenge my clients to come up with the answers, they require, on their own and in the process assist them to get to where they want to be.
Questioning is a valuable life tool and it is imperative to ask the right questions. Ask questions that enable people to trust you, establish a rapport, anticipate changes, and facilitate their growth and development and of their organizations.
Asking open-ended questions is important and more important is how you ask these questions. Questions asked in the wrong way can shut a person down and can also break the trust and relationship.
Questions with a negative tone or focus aren't going to give you desired results. 
What are the questions to avoid? What are the right type of questions to ask?
1. Who is responsible for this ? Or Whose fault is this?
This line of questioning sets a negative tone to the conversation and seems to indicate that you want to blame someone. It puts your audience in a defensive mode.
A leader is one who takes a little more shame of the blame and a little less than his share of credit.
A better line of questioning to consider is how can we work together to get to our goal or desired results? With the right amount of trust and rapport established, this will help you identify any snags in the process and help you identify and overcome any deficiencies or weaknesses.
2. What is the issue or problem?
And questions along the same line tends to focus on defects and weakness instead of on ways to move forward. As human beings, we need no help in being negative. Questions which focuses on problems are negative and puts your audience on the wrong foot.
What are we doing well? What have we done well so far? What steps do we need to take to improve ourselves ? How can we do better? These type of questions focuses on the other person's strengths instead of on what went wrong.
3. Have you tried this way? Or how about doing it this way?
These are questions which tends to convey a sense of control from the person asking them. Our brains, according to a lot of studies done by neuroscientists perceive loss of autonomy as a threat and thus creates an air of distrust and negativity.
What do you think ? Or what do you propose? Are there better ways to move forward to desired results.
4. Why not ? Or why haven't you thought of something similar ? Or why do you think it will work this time
These questions have a condescending tone to it and almost seems to suggest that the other way is better or that you are wrong. It indicates a sense of distrust in your team.
A better style of question to motivate and engage people is
How can we do it better this time? What are some of the ways we can try this time to get the desired results? If we tried the same method this time, how do you think the outcome would be different?
No matter the type of question, the tone with which these questions are asked needs to be positive and one that suggests way forward instead of demotivating and finger-pointing.
Rhetorical questions are great but cannot be used in all circumstances. Questions with a Why are great and you need to be sensitive to the culture, the tone and the situation. What or how are better ways to ask the same question starting with a Why?
Questions can be asked of others and of yourself to move forward, to reflect, to overcome fears and overall for the growth and development.
I have seen clients make the necessary shifts to get the results that they seek and asking the right questions has been a significant contributor to this.
How have you used questions in your life?
What type of questions have helped you grow ?